Live streaming eCommerce, online shopping festivals, turning shopping into a gaming experience – 'shoppertainment' is a strategy that's sticking for the long-haul. It's a no-brainer when you think about it: we are currently living in a pandemic-ridden world with imminent lockdowns, feelings of uncertainty and bouts of isolation. It's no wonder that most of us would be scrambling for small forms of escapism and delight at every chance.
As per Ali Express, the concept of blending shopping and entertainment "blurs the lines between e-commerce, entertainment and everyday lifestyle, engaging consumers in a highly immersive and interactive experience, such as live-streaming events, pictures, videos, and interactive games, to ultimately drive transactions."
Examples of Successful Shoppertainment Activations
Turning the e-commerce shopping experience into an entertaining pastime allows customers to immerse themselves in the multi-faceted ways a brand presents itself and its offerings. A staggering 70% of European consumers have expressed interest in shoppertainment. Luxury brands like Burberry have seen strong results from their live-stream events as well. We'll explore the different ways shoppertainment has risen in importance and the types of executions that have resonated with them.
During the pandemic, Chinese Skincare brand Forest Cabin had to close more than half of its 300 stores. It shifted its focus to its online strategy and instead of increasing ad budgets or eCommerce sales offers, they took a different turn. As reported by ABC News, the company leveraged the spike in social media use and trained its salespeople to begin hosting live video streams. Following this, they continued to engage and inform existing customers with skincare tips and product recommendations.
This resulted in a 20% increase in year-on-year sales, despite the widespread store closures. Even Taobao Live, the dominant live commerce platform in China reported that in the past three years, its gross merchandise volume has grown by 150% per year.
JD.com even partnered with Taihe Music Group and various international liquor brands to simulate the feeling of a physical a night club, online. The campaign aimed to highlight the atmosphere of the clubbing experience, now out of reach with a pandemic, with a culmination of music and liquor sales.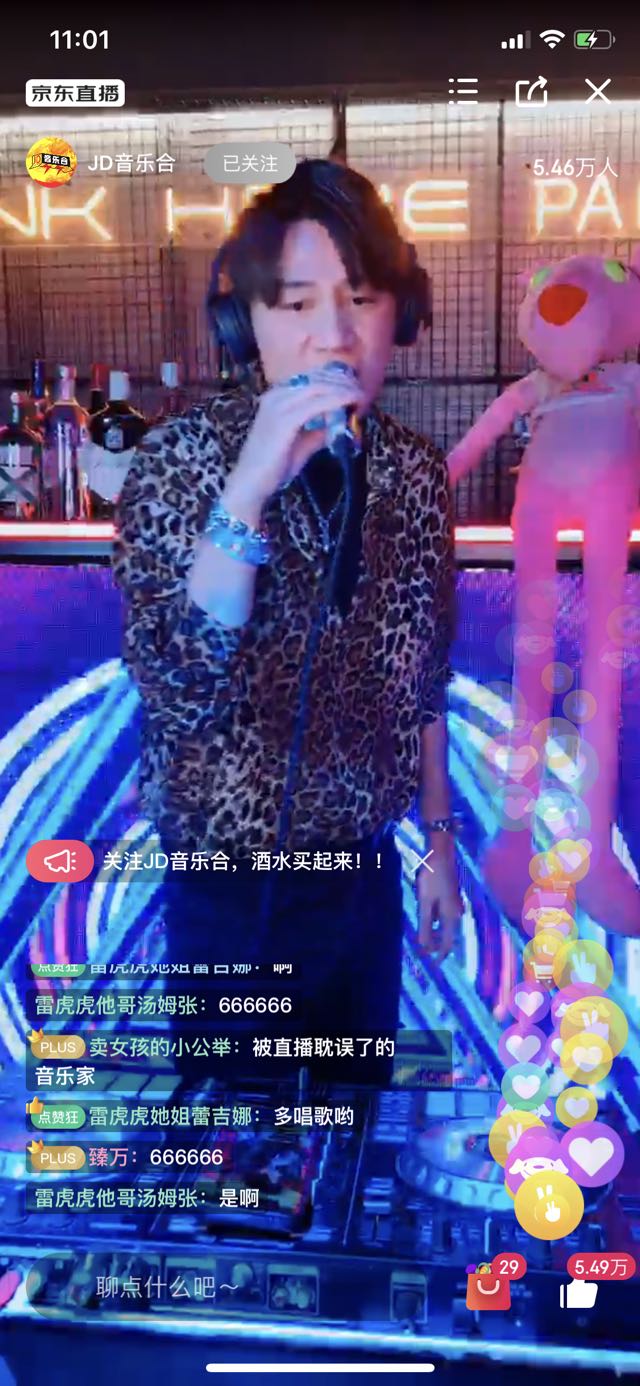 From these examples alone, it is evident that China has mastered turning online shopping into an exciting experience that brings big sales. Chinese retailers and apps actively curate spaces for people to enjoy and explore on their own or with friends. With this approach, selling is almost a secondary priority to creating interesting, memorable and shareable experiences for customers. From highly entertaining influencers using livestream to promote products, to comedic TV personalities putting a delightful spin as you browse, it's quite clear why people would happily tune in.
Shoppertainment's Global Reach
Adopting this is American luxury retailer Nordstrom. The company has hosted over 50 virtual events last year as well as French department store Printemps who broadcasted four live-shopping programs from its Boulevard Haussman flagship store. Other examples of entertainment-led ecommerce include Instagram's recent allowance of creators to sell products via Instagram Live, click-through product launches in Stories, and links to products in Feed photos. Shoppable Reels were introduced in December of 2020 and aren't too different to the Bytedance-owned video app Douyin. IKEA even tapped into Alibaba's 3D showroom technology last year and created a virtual walkthrough of a full IKEA store experience.
Following Douyin's footsteps, TikTok has enticed American and European consumers to shop via video with the trending #TikTokMadeMeBuyIt hashtag. This showcases the power short videos wield, but also of recommendation-led purchasing, further evolving the experience of shopping.
Predicting the growing prominence of Shoppertainment, TikTok credits short videos as a crucial driver for discovery and conversation for its customers. Armed with these curated insights, brands can begin planning their sales and marketing strategies to create memorable, resonating experiences that brings them closer to the brand as a whole.
How To Incorporate 'Shoppertainment' Into Your Content Strategy
While it's not all just flashing lights and rambling live videos, combining your ecommerce with shoppertainment is a highly consumer-first mindset. Getting into the psyche of what alleviates your customer's pain, including elements that would enrich their experience, while making shopping truly delightful is what matters most in the long run. Here are some findings to note:
19% of European survey respondents are likely to make unplanned purchases when the product is presented by influencers they like.
No two customers are alike. Analyze your current audience demographics and seek out the ways your offerings will resonate with them the most. For example, UK consumers "need trustworthy and entertaining content that is mobile-friendly", while French customers "prefer content that is succinct and endorsed by influencers". Spanish shoppers "look for the best deal and practical information when they turn to shoppertainment", and consumers in Poland "value interactions with hosts and other customers the most".
Shoppertainment isn't for every brand, but elements of it should be considered for your customer's benefit. Staying ahead of trends and being open minded to innovation are elements that shape immersive and novel experiences for customers at every turn.
Besides live-streaming, short videos and influencer collaborations lend a sense of credibility whilst adding an aspirational layer towards product value perception. Like any good partnership, choosing the right collaborator helps to establishes your brand identity and communicates it across in a visual way.
Forget lights, camera, action. With privacy and trust issues on the rise, customers want to know exactly what they're purchasing which is why livestream sales have proved themselves to be so popular. With real-time responses, there's less room for imagery to be manipulated, revealing a more real and credible dimension of the products at hand.
Final Thoughts
When we consider in-store activations, art exhibitions that follow themed marketing campaigns, samples, brands teaming up with music festivals, digital displays in shopping centres – we are no strangers to 'shoppertainment'. But with the eCommerce market getting more and more saturated, making it a point to turn your customer's online shopping experience into one that is fun, engaging and relevant is more than just getting sales through hedonism. It's the welcome respite we all need from a world that is currently in a constant state of flux.
Need an eCommerce marketing agency that has your back? Find out how we can help boost your business. Book a free strategy session here. Or, better yet, check out our agency secret to helping your business grow with less effort over time.